I am a huge fan of clean out your fridge recipes.
In winter, that usually means soups and curries. But in summer, I just have no appetite for things that are warm and take a long time on the stove. That could be a product of living where it is routinely 100F in the summer, though!
Simple Summer Salad
Enter this salad. It's a great dish that can serve as your entire meal. I've put it into recipe form here, but really it is just more a suggestion of what to put in it. We always have jars of kalamata olives and artichokes in our house- mainly to be used in this recipe and on homemade pizzas. We also tend to stock up on pasta and quinoa, and usually have tomatoes and cucumbers lying about. So this is a version that we come back to time and again. But the idea here is to make it work for you, so don't let my suggestions limit you.
Anything Works!
The beauty of this salad is that anything works! We usually have this as our whole meal, so I'm always making sure we have multiple different types of add-ins that make a balanced meal.
There are a few things to keep in mind if you decide to make your own version of this salad:
Kale is an awesome green in this because it actually gets better as you let it sit in dressing. Most greens will wilt, especially once they are dressed. Not kale! So I strongly suggest using kale in this recipe as a base. If you have some reluctant kale eaters in your house, try actually using your hands to massage the kale in the dressing. It might sound funny, but it actually breaks down the bitter compounds in the kale and makes it taste better. I've found that you can also get a pretty good approximation of this if you use two serving spoons to mix and do the massaging with them. You can also dress the kale and let it stand for awhile to let the compounds break down.

Carbs are a must! Salads without a grain or pasta base can be good in their own way, but not for full meals! It doesn't matter what you use- it could be quinoa, pasta, wheat berries, farro. Whatever you have in the cupboard will work.

Add a protein source. Once again, it doesn't matter what it is. Eggs, white beans, chicken (rotisserie chicken from the grocery store is a great quick option!) It's your choice, but adding a protein is another great way to round out the meal and make sure it keeps you full for longer than a split second.
Other than that, whatever veggies you have will work. This balsamic dressing really works with the kale, and tastes good on pretty much anything you can put in it.
The Recipe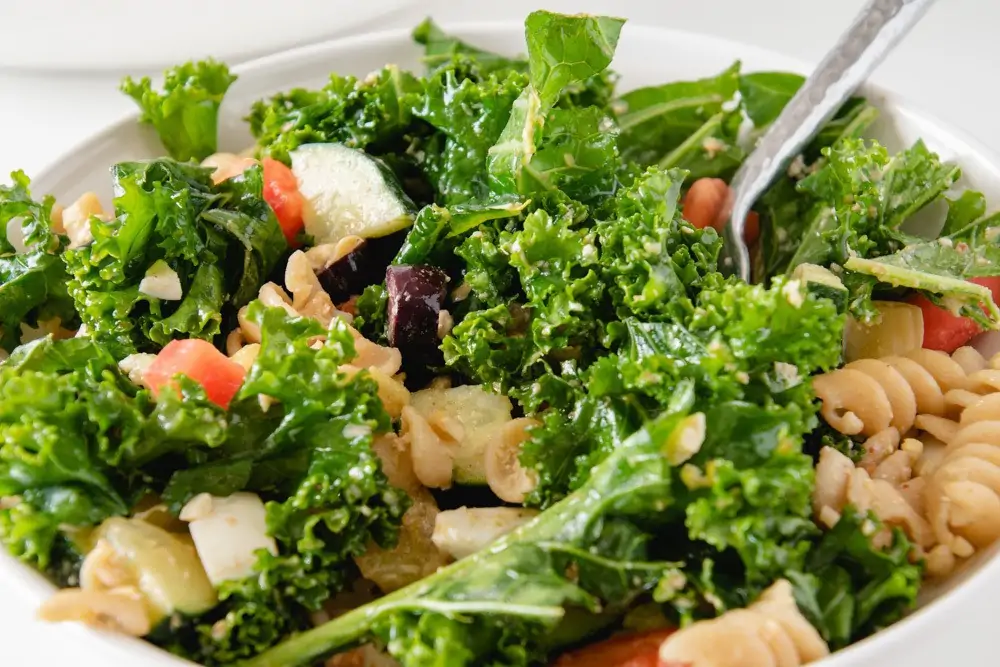 Kale Salad with Balsamic Vinaigrette
A clean out your fridge, anything goes type of salad. Use these ingredients as suggestions, but ensure you have a carb and a protein in your own version to help make it a full meal. This version will serve 4 adult portions. We usually double it to use up all the ingredients and give us lots of leftovers.
Ingredients
1

bunch

kale

½

large

cucumber

1

medium

tomato

12-14

(1/4 cup)

kalamata olives

2

hardboiled eggs

4-5

(1/2 can)

artichoke hearts

4

oz

feta

½

lb

pasta of choice
Balsamic Vinaigrette
3

tbsp

balsamic vinegar

2

tbsp

lemon juice

1

tbsp

mustard

2

tsp

minced garlic

½

cup

olive oil
Instructions
De-stem the kale and tear into bite size pieces. Place into large bowl.

Cook pasta according to package directions. Allow to cool or run under cold water before adding to bowl.

Chop cucumber, tomatoes, olives, and eggs and add to bowl.

1/2 large cucumber,

1 medium tomato,

12-14 (1/4 cup) kalamata olives,

2 hardboiled eggs

Chop or separate artichoke hearts with fingers and add to bowl.

4-5 (1/2 can) artichoke hearts

Crumble feta and add to bowl.

Combine all ingredients for the vinaigrette in a bowl or mason jar and whisk or shake until combined. Pour over salad.

3 tbsp balsamic vinegar,

2 tbsp lemon juice,

1 tbsp mustard,

2 tsp minced garlic,

1/2 cup olive oil

Use two long spoons to work dressing into salad and kale leaves. Allowing the dressing to sit on the kale or be worked into it with spoons will make the kale less bitter.

Spoon into bowls and serve.

Leftovers can be stored for 3 days in the refrigerator. The kale will get even better the longer the dressing is on it.
Notes
Adaptations for Baby: Slice cucumbers into finger length and width sizes for a newly-eating baby. Leave skin on to allow them to scrape out the meat. Tomatoes can also be sliced into finger length and shape sizes, skin should be removed. Serve with pasta and a hardboiled egg wedge for a balanced meal. Try picking pieces out to serve to your baby after the salad has been dressed to give them exposure to the flavor of the dressing.
Nutrition
Serving:
0
g
Calories:
597
kcal
Carbohydrates:
51
g
Protein:
17
g
Fat:
38
g
Saturated Fat:
9
g
Polyunsaturated Fat:
4
g
Monounsaturated Fat:
23
g
Cholesterol:
118
mg
Sodium:
474
mg
Potassium:
443
mg
Fiber:
2
g
Sugar:
4
g
Vitamin A:
3793
IU
Vitamin C:
39
mg
Calcium:
278
mg
Iron:
4
mg