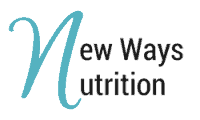 At New Ways Nutrition, it is all about improving your relationship with food without the restrictive diets. It's time to develop new ways to think about your food!
It has been shown over and over in research, as well as real life, that while diets have the potential to work in the short term, they generally don't work in the long term. The more diets we try, the harder it is to have a healthy relationship with food. Food should be enjoyed! Let me help you learn how to enjoy food, without the guilt, while at the same time becoming healthier.
The focus at New Ways Nutrition is on parents and families. When parents have a healthy relationship with food, when they enjoy what they're eating without guilt, and make healthy choices, kids tend to follow that example. I will help you explore ways to improve your eating habits while at the same time improving your kids' habits, all without needing to spend hours and hours in the kitchen making healthy meals.
Have picky eaters? Kids that only want to eat foods that you know aren't healthy for them? Do you feel like there is no way you can keep up with all your kids' activities AND get healthy, nutritious meals on the table every day? Contact me for your free 15 minute phone consultation today to see how I can help.
Meet Renae
Renae D'Andrea MS, RDN is a dietitian that takes a non-diet approach to nutrition by focusing on intuitive eating and improving her clients' relationships with food. She earned her Masters' degree in Nutrition from Colorado State University in Fort Collins, Colorado where her focus was childhood nutrition and how adults can influence it. Renae now lives in Sacramento, California with her husband and daughter as well as lots of extended family. She continues to have a passion for helping parents and their children improve their nutrition, and works with clients from all over the country. In her spare time she loves to be active by hiking, running, and cycling. She also loves finding delicious new meals to share with her family and friends.
Ready to make the change?
Schedule your free 15 minute phone consultation now!