Wondering when your baby can eat strawberries, and how to prepare them? I've got all your answers about strawberries for babies here!
When Can Babies Have Strawberries?
Strawberries are a great first food for babies! You can safely (and confidently!) introduce strawberries as early as around 6 months of age when your baby starts solids.
If you are using baby led weaning with your baby, strawberries can be a great and interesting finger food for your baby to experiment with!
Are Strawberries Healthy for Babies?
Yes! Strawberries are full of lots of important nutrients for your baby's diet.
The most beneficial nutrient for babies in strawberries is vitamin C. Vitamin C helps with the absorption of iron, which is one of the most important nutrients for your babies.
One of the most helpful recommendations when it comes to feeding your baby is to include a vitamin C rich food in meals whenever you can. This will help to maximize your baby's iron intake and keep them thriving.
Other important nutrients for your baby which can be found in strawberries include fiber, folate, and iodine, among others.
When it comes down to it, strawberries are delicious, juicy, fun to explore, and give some great health benefits to your baby!
Are Strawberries a Common Allergen?
Nope. With that said, all foods can cause a food allergy in humans. Strawberries are just not a common cause of allergic reactions throughout most of the world.
There are more incidences of a documented allergic reaction to strawberries in northern and central Europe, although they are by no means exclusive to that part of the world.
When we do see sensitivity with strawberries it is often in people with allergies to birch pollen, and can be classified as Oral Allergy Syndrome. (Ref) People with allergies to Rosaceae fruits like apples, plums, and almonds can also have a higher incidence of allergic reactions to strawberries.
Is a Rash Around the Mouth an Allergic Reaction?
Many parents note an occasional rash around the mouth when their babies eat strawberries. This is most often not an allergic reaction.
Strawberries are an acidic fruit. Like tomatoes, they can cause irritation to the skin around your baby's mouth. Acidic fruits like these can also result in severe diaper rashes when some babies eat strawberries.
Are Strawberries a Choking Hazard for Babies?
Yes, and no! Like most things, when served a certain way they are considered choking hazards. The best way to evaluate if a strawberry is a choking hazard is to consider your baby's age and developmental stage.
When you introduce strawberries it is important to start with large, soft strawberries to ensure that they are safe. As they get older, you can have your baby eat ones that are smaller or harder.
How to Prepare Strawberries for Your Baby with Baby Led Weaning
Strawberries are a great food for babies to eat right from the beginning of foods. For baby led weaning and finger foods it is fairly easy to prepare strawberries. You just need to keep a few things in mind!
How to Serve Strawberries to a 6 Month Old Baby
If your baby is starting foods using a baby led weaning style of eating, you can simply give them large strawberries that are larger than their mouth to gnaw on. The key to this, however, is making sure that your fresh strawberries are actually ripe.
A ripe strawberry will smoosh easily between two fingers, making it safe for babies. Locally grown strawberries that are picked when they are ripe often pass this smoosh test.
More often than not, strawberries found in grocery stores are picked and shipped before they are ripe, and they are too hard to serve whole strawberries safely to your baby.
If your strawberries are too hard to serve whole, simply serve quartered strawberries that are in long, thin spears. This will make them safe for your baby while also allowing them to pick them up. If your strawberries are large, you may need to cut them into more than 4 pieces.
Another great option for baby led weaning is to defrost some frozen strawberries. These are available year round, and are soft enough for babies to easily eat. Pop them in the microwave for a few seconds to defrost, and then watch your baby eat strawberries like they're going out of style!
How to Prepare Strawberries for a 9 Month Old Baby
Once your baby has their pincer grasp down, you can simply serve sliced strawberries. Cut the strawberries into bite-size pieces for them. Serve the chopped strawberries on top of something, or just by themselves.
You can also continue to serve soft strawberries whole, or however the rest of the family is eating them at that meal.
Strawberries for a 12 Month Old Baby or Toddler
Once your baby is 12 months old, they can often handle strawberries however you are eating them yourselves.
Continue to monitor strawberries for ripeness. As your baby gets more proficient at eating, they can handle foods that are harder.
There is no firm date for when a toddler can handle an under-ripe strawberry. Simply do your best to assess their developmental readiness to handle slightly harder foods and serve strawberries along these same lines.
Strawberry Recipes
Strawberries are extremely versatile and can be served raw as a side to a meal or snack, or simply as a topping to a dish like cereal, oatmeal, or yogurt. They can also be served in savory dishes throughout the day.
Here are a few ideas for recipes with strawberries in them:
Babies can have spicy foods just like the rest of the family. However, for those first few months or before you have gotten them used to spice I would recommend cutting down on the jalapeno in this recipe. Omit the honey or maple syrup for kids under 2. By using ripe strawberries you will negate the need for this, as well!
If you follow me on Instagram, you know that I love a good twist on a grilled cheese sandwich. For this, make sure your brie is pasteurized for babies and toddlers. Check out this post for some other great baby-friendly cheese options to use in this recipe.
And my all time favorite recipe for strawberries I'm sharing with you below!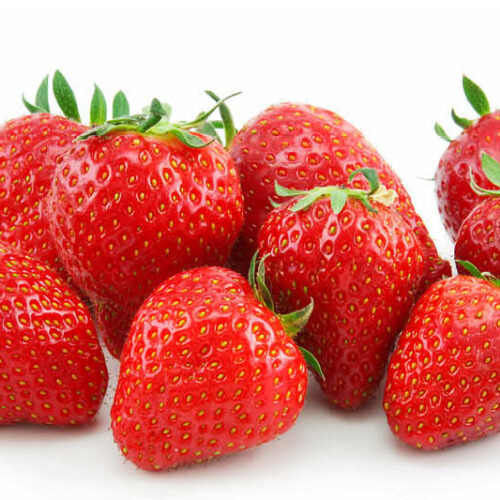 Strawberry Chia Seed Jam
A simple recipe using fresh or frozen strawberries that can be used as baby food or as a topping with baby led weaning.
Ingredients
16

oz

Strawberries

fresh or frozen

¼

cup

Chia seeds
Instructions
Add hulled and roughly chopped fresh strawberries, or whole frozen strawberries to a medium pot and place it on the stove over medium heat.

If frozen, allow the strawberries to defrost and start to break down. Stir occasionally to keep them from sticking to the pot. Once the strawberries are defrosted, use a potato masher to further break them down until you have a rough strawberry puree.

For fresh strawberries, use a potato masher to lightly break up the strawberries as they start to cook. You may need to add a bit of water to the pot if your strawberries are not very juicy. Once the strawberries are soft, mash them with the potato masher until they are completely broken down into a puree.

Turn the heat down to medium low and continue to heat the mashed strawberries for an additional 2-3 minutes.

Add chia seeds to the cooked strawberries in the pot and stir until completely mixed in. Continue to cook for an additional 2-3 minutes or until it reaches a thin jam-like consistency.

Remove from heat and allow to cool. The jam will continue to thicken as it cools. Store in an airtight container in the fridge for 1-2 weeks, or portion out into individual serving sizes and freeze.
Notes
This recipe goes well with any fresh or frozen fruit! Raspberry jam is another family favorite of ours.
Nutrition
Calories:
44
kcal
Carbohydrates:
7
g
Protein:
1
g
Fat:
2
g
Saturated Fat:
0.2
g
Polyunsaturated Fat:
1
g
Monounsaturated Fat:
0.1
g
Trans Fat:
0.01
g
Sodium:
1
mg
Potassium:
109
mg
Fiber:
3
g
Sugar:
3
g
Vitamin A:
10
IU
Vitamin C:
33
mg
Calcium:
43
mg
Iron:
1
mg
Have you found a favorite way to serve strawberries to your baby yet?
Get the Baby course
Starting Solids:
Setting the Foundation
Learn WHAT to feed, and HOW to feed it. With answers and guidance that you never knew you needed. The foundations course will set you and your child up for a lifetime of positive feeding and eating!