When we first started feeding my daughter solid foods, I was constantly on the look out for easy, baby friendly recipes. Specifically, ones that were baby led weaning friendly! I still am, as a matter of fact. There are so many different baby food recipes out there, and some of them fit the bill, but there sure aren't many!
I love a basic baby cookie that usually has rolled oats, chia seeds, mashed banana, and often peanut butter or some other kind of nut or seed butter. But in this case I was looking for something that would introduce different flavors and add a little more nutritional bang for our buck.
What is baby friendly baby food?
So what am I looking for when I say baby friendly? I'm looking for no added sugar or sweeteners (that means everything from sugar to maple syrup, honey, and stevia!) Not a choking risk, and low or no salt. It also means a soft finger food. Quite a tall task when it comes down to it, and not one most foods, and baked goods in general, can manage.
I give bonus points for the same recipe being parent friendly, too!
Get the Starting Solids: Setting the Foundation Course Today!
Learning what to feed your baby is helpful. But what about all the rest?! Learn things like how they should be positioned for eating, what you should do at meals, and how to set up an environment that fosters a positive feeding relationship-for life!
Baby cookies are great on-the-go options
I quickly realized as my daughter started to eat more and more that it is incredibly important to have some quick and easy finger foods options in the diaper bag when we are out at restaurants.
I prefer to avoid pouches which are a common go-to, and there's no need to give something like veggie purees ahead of a meal either. I much prefer something with some more calories, fat, and iron to add to a baby's diet!
For restaurants in general, I like to give my daughter restaurant food when appropriate. But it's a rare case that she has the patience to sit and wait for food once we've sat down at a table. And that's where these oatmeal cookies come in.
I also like to have these around when we go on vacations, and in my freezer for those days where I just don't have anything planned or for an easy snack as she gets older.
Easy cookies for babies and the whole family!
Enter these "cookies". Because let's be honest, they aren't really cookies. They taste nothing like a chocolate chip or oatmeal raisin cookie. But they look like a cookie, so we'll call them baby cookies.
As I was trying multiple baby cookie recipes, I realized that I would be better off to adapt a simple recipe that I've been making for years. The original has a bit of sugar as well as mix-ins that can be choking hazards. So I set out to create a cookie that was appropriate for my daughter, had a soft texture, and one that I would want to eat, too.
By processing the fruit in a food processor down to a chunky paste, I was able to get everything I was looking for. The paste acts as a sweetener throughout the dough, but also makes the fruit small enough that it isn't a choking hazard. It also helps with adding moisture to the cookie, as they are egg free.
These homemade baby cookies are by no means sweet, though! We all love them here in our house as a great quick snack, but we don't tend to enjoy sweet things. So if you want to make them for yourself, and need things to be sweeter, you can easily add 1/4-1/2 cup of sugar to the wet ingredients.
You can change up the dried fruit mix ins, but dried apricots are a great source of iron, and really the only way to get them into your baby is by processing them like this!
At what age can a baby have cookies?
The age old question!
If we're talking baby cookies like these, babies can have them right from the beginning of solid foods around 6 months of age. If you're talking about traditional cookies more like Oreos or chocolate chip cookies, it is better to wait until they are 2 for anything with added sugars.
Is flax seed safe for babies?
These cookies rely on flax seeds for moisture and as an egg replacer. They're also a great nutritional addition to the cookies.
Flax seed is a food that isn't a common ingredient in many people's diet. Flax seed is absolutely safe for babies, but there are a few things to be aware of.
Flax seeds should be given ground and not whole. Whole flax seeds are not digestible.
You can often find pre-ground flax seeds in stores. To maximize nutritional value, though, try grinding them in a spice grinder or coffee grinder when you are ready to use them.
Flax seeds are a natural laxative with lots of fiber, and can pack a large nutritional punch. They also contain some nutrients that in abundance and over time can cause issues.
Most babies are unlikely to ingest enough flax seeds to cause an issue. But it is best to add them to your baby's diet in moderation so they do not get too much flax seed. A recipe like these baby cookies is ideal for them.
How to store these cookies
You can store these on the counter at room temperature for 2-3 days, in the fridge or in the freezer. The baby cookies make for a great freezer stash when stored in an airtight container, and we love to take them out and reheat them in the oven, as they taste the best warm from the oven.
I almost always throw one of these in my diaper bag for emergencies, and my daughter loves them. When I was taking these pictures, I let her grab one thinking it would make a cute picture. Within a few minutes she'd eaten the whole thing!
The Recipe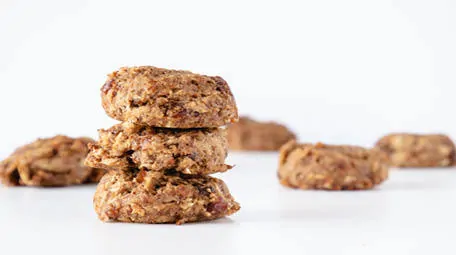 Baby Cookies
A cookie specifically created for your baby, but that you can enjoy, too! Baby led weaning-friendly recipe.
Ingredients
Flax Egg
2

tbsp

ground flax seeds

½

cup

water
Dry Ingredients
1 ½

cups (250g)

whole wheat flour

½

cup (50g)

rolled oats*

2

tbsp

ground flax seeds

½

tsp

baking soda

1

tsp

cinnamon

¼

tsp

ground nutmeg
Wet Ingredients
¼

cup

avocado oil**

¼

cup

milk***

1

tsp

vanilla extract
Mix Ins
½

cup

dates

½

cup

dried apricots
Instructions
Preheat oven to 350 F. Prepare a baking sheet with parchment paper or a silpat.

Add water and 2 tbsp ground flax to a medium bowl. Set aside for 5-10 minutes

1/2 cup water,

2 tbsp ground flax seeds

Place apricots and dates in a bowl of hot water. Allow to soften until they are soft enough for your food processor to be able to handle them. (If your food processor is heavy duty enough to process hard fruits, you can skip this step.)

1/2 cup dried apricots,

1/2 cup dates

Place apricots and dates in a food processor. Process until they form a paste-like consistency with small bits remaining. Make sure there are no pieces big enough for your baby to choke on. Set aside.

In a large mixing bowl, add dry ingredients and stir until combined. Set aside.

1 1/2 cups (250g) whole wheat flour,

1/2 cup (50g) rolled oats*,

2 tbsp ground flax seeds,

1/2 tsp baking soda,

1 tsp cinnamon,

1/4 tsp ground nutmeg

Add wet ingredients to flax and water mixture, stir to combine.

1/4 cup avocado oil**,

1/4 cup milk***,

1 tsp vanilla extract

Mix wet ingredients with dry ingredients until fully combined.

Add processed date and apricot mixture to bowl and stir until spread evenly throughout dough. You may have to use a little bit of muscle here!

Spoon heaping tablespoonfuls of dough onto prepared baking sheet and bake for 12-14 minutes, or until golden brown on the bottom.

Allow to cool on wire rack before serving. Cookies can be frozen in an airtight container for up to one month. Store at room temperatire for 2-3 days. For the best defrosted taste, heat in an oven or toaster oven at 350 F until thawed.
Notes
* Quick oats or old fashioned rolled oats are fine
** Any flavorless oil will work here
*** A non-dairy milk will work fine
Nutrition
Serving:
0
g
Calories:
227
kcal
Carbohydrates:
37
g
Protein:
6
g
Fat:
7
g
Saturated Fat:
1
g
Polyunsaturated Fat:
2
g
Monounsaturated Fat:
4
g
Cholesterol:
1
mg
Sodium:
51
mg
Potassium:
276
mg
Fiber:
6
g
Sugar:
7
g
Vitamin A:
210
IU
Vitamin C:
0.1
mg
Calcium:
35
mg
Iron:
2
mg
I hope you enjoy, and if you try them be sure to let me know or tag me on Instagram!
Get the Baby course
Starting Solids:
Setting the Foundation
Learn WHAT to feed, and HOW to feed it. With answers and guidance that you never knew you needed. The foundations course will set you and your child up for a lifetime of positive feeding and eating!