My whole life I have been a carrot cake lover. There's just something about the spices and the flavor of a delicious piece of carrot cake. So you can see why when I first started experimenting with carrot cake oatmeal, I fell in love.
Carrot cake oatmeal has those same flavors that I love from the cake, but in a perfect breakfast format. It's creamy, packed full of flavor, and nutritiously dense. Always a bonus for kid-friendly recipes!
This is one of my family's cold weather breakfast favorites, and is one of the few breakfasts that is guaranteed to make both of my kids happy at breakfast time!
Carrot Cake Oatmeal for the Whole Family
Babies
This is a great recipe to give to babies right from the first few days of solid foods. Simply omit the walnuts, or serve them ground so they aren't choking hazards.
The carrots are soft once cooked, and not a choking hazard for babies.
Toddlers
As with babies, the only thing that needs to be adjusted for toddlers is the walnuts. For toddlers, walnuts that are broken into small pieces are safe. You can continue to grind them, or start to give them slightly bigger chunks. Hold off on large walnut pieces until they are 4 and older.
Preschool Through Adults
Serve the recipe as is for these age groups. Try serving the walnuts as an optional topping to allow your child to have the control over whether they eat it or not.
Cow's Milk vs Plant-Based Milks
This recipe is easily adaptable to any milk your family uses. I have made it with both cow's and oat milks, and the flavor has been very similar. Any other unflavored milk that you serve your child should be fine to substitute here.
Batch Grate the Carrots!
Before I figured out that I should batch grate the carrots for this recipe, I admittedly didn't make it very often. The thought of grating carrots and then cooking them in oatmeal on a day that we had to be anywhere...let's just say it wasn't happening!
But then I realized that if I used my food processor or mixer with an attachment to grate carrots and then freeze them, I could have this oatmeal even on weekdays.
We usually buy a 5 or 6 pound bag of carrots, grate them all up with our mixer attachment, and then freeze them in 2 cup portions that are perfect for this recipe. It's a great way for kids to help, too. And getting kids in the kitchen can be so helpful for them!
There's no need to defrost the carrots before cooking. Simply dump the block of carrots in the pan and use your spoon to help break it up as it begins to cook.
Try Serving This Recipe Family-Style
If you haven't served carrots often to your child, or they aren't a favorite vegetable, it might take a few exposures for your child to want to eat the oatmeal. This is not uncommon!
One of the best ways to help with this is to serve the meal family-style and allow your child to dish up their own meal. This gives them a sense of control over the food and meal, and helps relieve the pressure associated with new foods.
For kids that are too young to dish up by themselves, especially from a hot pan, I still recommend serving the meal from the table. Allow them to tell you how much they want, so you are acting as their hands but allowing them to fully dictate how much goes on their plate.
For more help with how to help your kids try new foods, grab the toddler course Mastering Mealtimes.
Need help with mealtimes?
Mealtimes are about so much more than just the food. And they don't have to be full of battles over food or behavior! For help with how to structure meals so they are not a dreaded part of your day, grab the course Mastering Mealtimes!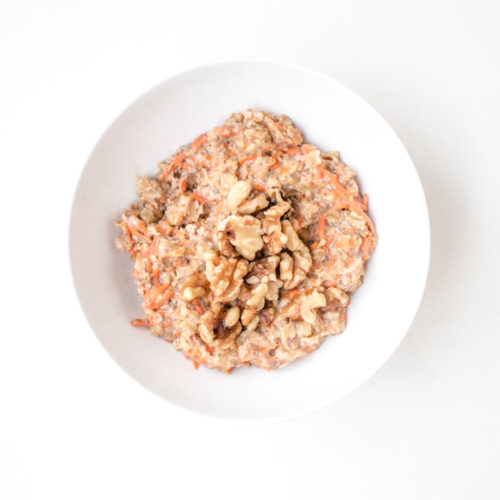 Carrot Cake Oatmeal
A delicious fall carrot cake oatmeal recipe that will take your breakfasts to the next level. Baby and toddler friendly versions, too!
Ingredients
4

large

carrots, grated

about 2 cups

2

cups

rolled oats

2 ½

cups

milk of choice

2 ½

cups

water

1

tsp

ground cinnamon

1

tsp

ground ginger

¼

tsp

ground nutmeg

2

tbsp

chia seeds

1

tsp

vanilla extract

¼

cup

walnuts

see note
Instructions
Finely grate the carrots and add them to a medium pot. You can also grate them ahead of time in a big batch and add them from your freezer here, see my explanation above.

Add the oats, milk, water, and spices to the pot. Cook over medium heat, stirring frequently, until oatmeal starts to thicken. The more good stirs you give it, the creamier it will be. But no need to stir it constantly.

2 cups rolled oats,

2 1/2 cups milk of choice,

2 1/2 cups water,

1 tsp ground cinnamon,

1 tsp ground ginger,

1/4 tsp ground nutmeg

Once the oatmeal has started to thicken, but about 2-3 minutes before it is fully cooked add the chia seeds. They will soak up the remaining liquid. Once oatmeal is at the desired texture, remove from the heat.

Stir in vanilla. Serve with walnuts as a topping.

1 tsp vanilla extract,

1/4 cup walnuts
Notes
If serving with walnuts, ensure that they are ground for babies. For toddlers between the ages of ~18 months and 4 years, serve either ground or in small pieces.
Cinnamon can be something that irritates babies faces. If your baby has an irritation from cinnamon, simply omit from the recipe or reduce the amount.
If you like your oatmeal sweeter, try adding some maple syrup to it. For babies, toddlers, and many adults, though, the flavors here will provide enough interest without sweetener.
Nutrition
Calories:
363
kcal
Carbohydrates:
46
g
Protein:
13
g
Fat:
15
g
Saturated Fat:
4
g
Polyunsaturated Fat:
6
g
Monounsaturated Fat:
3
g
Trans Fat:
0.01
g
Cholesterol:
19
mg
Sodium:
120
mg
Potassium:
679
mg
Fiber:
9
g
Sugar:
12
g
Vitamin A:
12285
IU
Vitamin C:
4
mg
Calcium:
292
mg
Iron:
3
mg