A skillet pancake that is delicious and fluffy, baby and parent friendly, and doesn't involve standing over the stove with a spatula? Sign me up!
Our weekdays are not a time to make fun breakfasts. I'd love to say that they are, but between work and a child, I'm just lucky if our breakfast is still hot by the time we get to eat it. (It wasn't today, for any of you keeping track!)
On weekends, we like to make up for that with lots of fun breakfast recipes! We've tried everything from biscuits and omelets to french toast casseroles and pancakes. And this skillet pancake recipe is one that we come back to over and over again.
It's a pancake that is incredibly hands off once you've got the batter done. And it is baby friendly with no salt and little or no sugar.
By using frozen raspberries as the fruit of choice, you get a bit of a tart flavor that allows you to practically eliminate any sweetener. Other fruits will work, but you may find yourself wanting to adjust how much sweetener you add as a result.
This skillet pancake is a very simple recipe to make. I've tried using several different ingredients for the oil and yogurt, and while I prefer the combination of both the oil and yogurt in the recipe below, you can also use all oil or all yogurt if you prefer. The texture will be slightly altered, but still delicious.
The hardest thing about this pancake is waiting until it's cool enough to eat!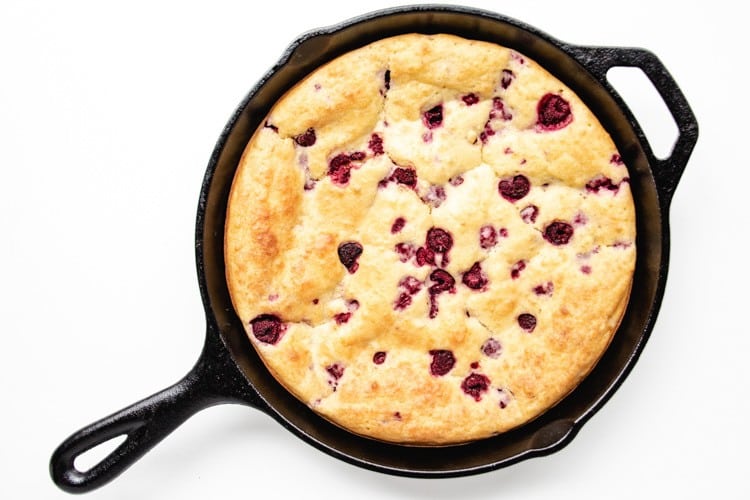 Baby-friendly Raspberry Skillet Pancake
Delicious and appropriate for the whole family, this pancake is simple to whip up and the cooking is all hands off! Adapted from Averie Cooks.
Ingredients
Dry
1 3/4

cups

flour

2

tsp

baking powder

1

tbsp

sugar,

optional
Wet
2

large eggs

1 1/4

cups

milk of choice

1/4

cup

greek yogurt*

1/4

cup

canola or grapeseed oil*
Add-Ins
2

cups

frozen raspberries**
Instructions
Preheat oven to 375 and grease a 10 inch oven-safe skillet with oil (a cast iron works great here!)

Combine dry ingredients in a large bowl and set aside.

In a medium bowl, whisk eggs, milk, yogurt, and oil until combined.

Add wet ingredients to dry and stir just until combined. A few lumps are okay here!

Gently stir in the frozen raspberries.

Add batter to prepared skillet and spread evenly with a spatula.

Bake for about 45 minutes or until the center is cooked. Cooking times will vary based on type of skillet used, you're looking for the center to spring back some.
Notes
* You can use all oil or all yogurt here, although a combination tends to produce the best texture.
**Any fruit will do, although the raspberries have enough flavor to allow you to reduce or eliminate the sugar all together. 
If you try it, be sure to tag @newwaysnutrition so I can see your creation!!