Today marks the release of my first recipe! Over the last few months, I have realized that it is important for me to begin creating recipes for this site. As we have focused more and more on how we, as a site, want to help people, it has become abundantly clear that recipes should be a part of our focus.
I do not purport to be the best chef around. Nowhere close, as a matter of fact. But I love to cook, and as a dietitian I have a background in food science and creating recipes. I find myself on Pinterest quite often, frequently looking at drool worthy recipe ideas and thinking about making them.
It Doesn't Happen on Weeknights
But here's the thing. Those recipes are great for special occasions, or if I really want to switch things up. They aren't great for those nights when I haven't really meal planned, things are going haywire, and I need to get dinner done in around 30 minutes. Or those nights where I just really don't want to make yet another trip to the grocery store, but the recipe I had my heart set on needs this one certain ingredient that I don't keep in the house.
Solid Foods for Babies
As we focus on starting our daughter off with solid foods, I've also found, and heard from other parents, that it can be hard to think of meals that are suitable for babies and parents. Especially in those early days of baby-self feeding. And I so want to support you in your quest to feed your children well!
Creating the Staples
All of this is to say, I want to create a space where we not only talk about HOW to feed your kids, but where we give you ideas on WHAT to feed them, too. My goal is to share recipes that become staples in your house. The ones that you make over and over from memory. I don't want to make the fancy, one off recipes for you. You can find all kinds of those on my Pinterest boards though! I want these recipes to be veggie heavy, and they will by and large be one-dish meals. Because that is what my experience as a dietitian has shown me can be the easiest, and best way, to feed a family. Whenever it is practical, I will recommend how to serve the recipes to your baby. The goal will be to give you a baseline to help make family meals easier!
The Logistics
I don't plan to publish recipes every week, as a large focus of this site is, and will continue to be, about HOW to feed your kids, from starting them on solids to preventing picky eating. That's what I'm passionate about and love to help families with. But a part of that help is providing those go to meal ideas. And I'm so excited to start!
Sweet Potato Mac and Cheese
The first recipe that I'm sharing with you is our go to meal. This is what we eat when we just don't know what else to cook. I found the original recipe years ago, and we've made it so much since then that I realized it's essentially become a whole different recipe now!
The Details
If you've never made mac and cheese from scratch before, the first time or two might take you a little longer as you get used to the process. It's quite a simple thing when it comes down to it to make a roux from flour and butter, but can take practice to have the confidence to know when it's ready to move on to the next step. The great thing about this recipe is that it's great as a starter recipe to get you comfortable with a roux. The sweet potato is a natural thickener, meaning that what point you stop cooking the roux is nowhere near as important as it might normally be! Check out the video below to see what it should look like before you move on to the next step of the recipe.
It's Flexible!
One of my favorite things about this recipe is that it is full of things we almost always have on hand, and it's pretty flexible. The amount of sweet potatoes doesn't really matter, as it's forgiving texture-wise. To make it baby friendly, simply leave out the salt. I also like to use a high iron and protein pasta, like Banza, to up the nutrition factor but that is completely up to you. And last but not least, make sure you put the kale chips on top! There's something so delicious about the sweetness of the sweet potato with the saltiness of the kale chips, you don't want to miss out.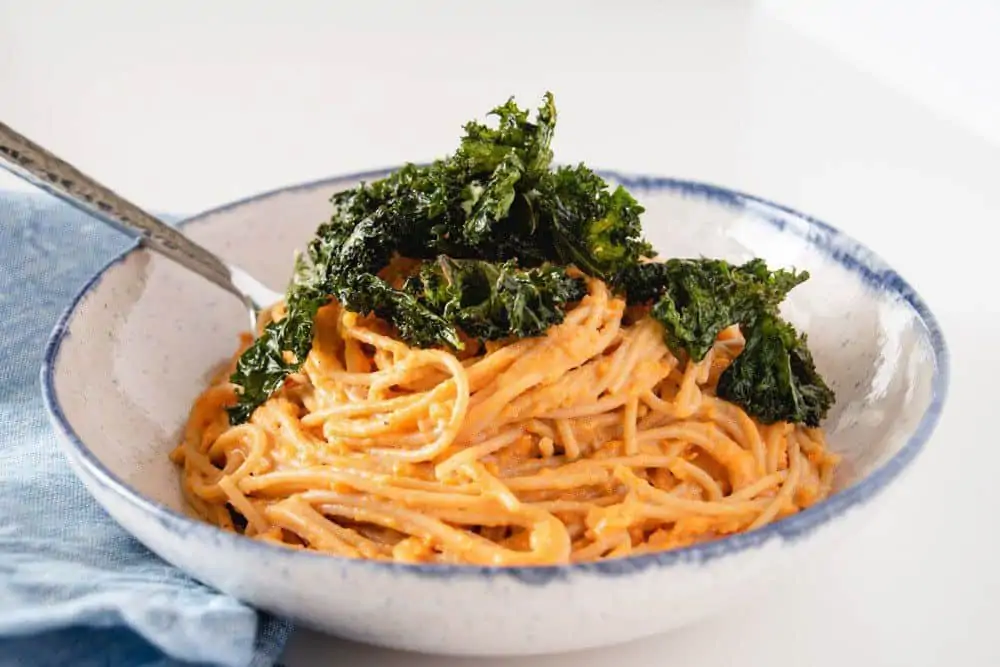 Sweet Potato Mac & Cheese with Kale Chips
Ingredients
1

large

Sweet Potato

about 2 cups pureed

1

bunch

Kale

2

tbsp

Sesame Oil

1

lb

Pasta*

1

tbsp

Olive Oil

2

tbsp

Butter

2

tsp

Minced Garlic

1

tbsp

Whole Wheat Flour*

2

cups

Milk

½

cup

Parmesan/Romano/Pecorino blend*

½

tsp

Salt

divided

¼

tsp

Pepper
Instructions
Microwave the sweet potato until soft. Set aside to cool.

Wash and de-stem kale, tear into bite size pieces. Place kale into bowl with sesame oil and massage with your hands until the leaves are evenly coated.

1 bunch Kale,

2 tbsp Sesame Oil

Spread kale onto a cookie sheet in an even layer. Sprinkle 1/4 teaspoon salt evenly over top and place into preheated oven.

Cook for 18-20 minutes, stirring half way through. Kale chips are done when they are predominately crunchy. Final cook time will depend on the size of the kale leaves.

Meanwhile, bring a large pot of water to a boil. Cook pasta according to package directions.

Once sweet potato has cooled, peel and mash with fork until most of the lumps are gone. No need to have it be perfect here. Set aside.

Heat a large pan over medium-low heat and add the butter and olive oil.

2 tbsp Butter,

1 tbsp Olive Oil

Once butter is melted, add garlic. Stir for 1 minute.

Add flour and stir constantly for 2-3 minutes, until butter and flour have combined and started to turn a light golden brown.

1 tbsp Whole Wheat Flour*

Add milk and mashed sweet potato. Stir to combine. It will take a bit of stirring for the sauce to come together here. There may still be some lumps of sweet potato, no need for concern.

Once combined, let mixture simmer until it thickens, usually 3-4 minutes. Thickening can occur quickly. If it becomes too thick, add a bit more milk.

Turn heat down to low. Add cheese, pepper, and remaining salt. Stir to combine.

1/2 cup Parmesan/Romano/Pecorino blend*,

1/2 tsp Salt,

1/4 tsp Pepper

Add cooked pasta and stir until evenly coated by sauce.

Serve topped with kale chips.
Notes
*Any flour will do if you don't have whole wheat
*We enjoy spaghetti and fusilli chickpea pastas, but choose your favorite. High protein and iron pastas like Banza or lentil and chickpea pastas work great here to add a little extra nutrition.
*Any hard cheese or combo of hard cheeses will do
Adaptations for Babies
-Remove some sauce prior to adding salt. Toss with a bit of pasta, ensuring that pasta is soft enough to squish between two fingers. A chickpea or lentil pasta is best for babies here to provide an iron source.
-Kale chips can be served, provided you ensure that they are crispy enough that they disintegrate into small flecks when crumbled between fingers. Pay close attention to the center of the leaves as that tends to be softer than the edges.
Nutrition
Serving:
0
g
Calories:
596
kcal
Carbohydrates:
73
g
Protein:
31
g
Fat:
25
g
Saturated Fat:
8
g
Polyunsaturated Fat:
3
g
Monounsaturated Fat:
7
g
Trans Fat:
0.2
g
Cholesterol:
33
mg
Sodium:
599
mg
Potassium:
503
mg
Fiber:
16
g
Sugar:
16
g
Vitamin A:
12636
IU
Vitamin C:
27
mg
Calcium:
368
mg
Iron:
10
mg
As always, follow me on Instagram where I post real life inspiration to help you feed your baby. And if you haven't already, be sure to join our New Ways Nutrition newsletter community where we send out updates and nutrition tips and tricks to help you feed your family confidently and with minimal stress!