Have you ever put veggies in your grilled cheese sandwiches? If you haven't, you are missing out! Veggies in grilled cheese sandwiches have become a family staple for us over the last few years, and they are my kids' favorite meals.
It has gotten to the point where a grilled cheese sandwich with just cheese sounds too boring for me! I don't think I ever would have thought that a few years ago.
Hands down our favorite grilled cheese of the moment is a roasted carrot and kale pesto grilled cheese. The sweetness from the carrots, mixed with a bit of sour from the pesto, and topped off with the salty cheese and crunchy bread is the stuff of dreams.
I post my family eating this sandwich frequently on my Instagram stories (we're talking at least every two weeks lately!) Every time I get tons of questions about it and people asking for the recipe.
So without further ado, today I'm sharing the recipe. It's a perfect one for the whole family, from the first few days of food for babies all the way to the adults in the family. My youngest daughter had this meal just 9 days into eating!
How to Serve This Grilled Cheese Sandwich to Babies
For younger babies just starting out with eating, I recommend serving the components separately.
I usually serve it with some very soft steamed or steam roasted carrots (to avoid the outer skin you can sometimes get when roasting vegetables.)
You can steam roast the whole family's carrots to make things easier. Or just ensure the ones you serve to your baby don't have a tough outer skin and are easily smooshable between your thumb and forefinger.
Serve the bread toasted with butter on it, and topped with the pesto. Cut it in finger widths for your baby.
While the pesto does have a decent iron source in the form of hemp seeds, depending on the rest of their food for the day, you may want to serve an additional quick iron source. Think something like some tofu (as you see in the above picture) or beans to help ensure they are being given lots of opportunity to get in iron. I consider this for babies under one as they have such high needs when it comes to iron.
I would omit the cheese for early eaters as it is an additional unneeded source of sodium, but it can be served if you choose.
How to Serve This Grilled Cheese Sandwich to Toddlers
Serving sandwiches to toddlers can bring up lots of questions. This is an easy sandwich to start serving whole to your child, as the cheese and pesto holds it together a little more than your average sandwich. I usually like to switch to serving assembled around one. But it will really depend on the developmental readiness of your child.
Simply cut the sandwich into finger widths and serve. There's a good chance that your toddler will take the sandwich apart themselves and eat it by the components, at least to start with. That's okay!
Serve it as a sandwich, and however they choose to eat it is fine. Eventually they'll start eating it as a sandwich, one way or another.
Use This Sandwich for Leftovers!
It tends to shock people when we say we make enough of this sandwich for two meals. The thought of a reheated grilled cheese isn't necessarily the most appealing. But this one is different! Because of the pesto and carrots, I find that it saves much better than a regular grilled cheese sandwich.
Now keep in mind that it isn't quite as good as a freshly grilled one. But when you're trying to make food for your family, I err on the side of leftovers that aren't quite as good instead of having to come up with a whole other meal.
We simply reheat ours in our microwave. But if you want to preserve that fresh grilled crispness, you can try reheating in a toaster oven or oven. Either way it is still delicious!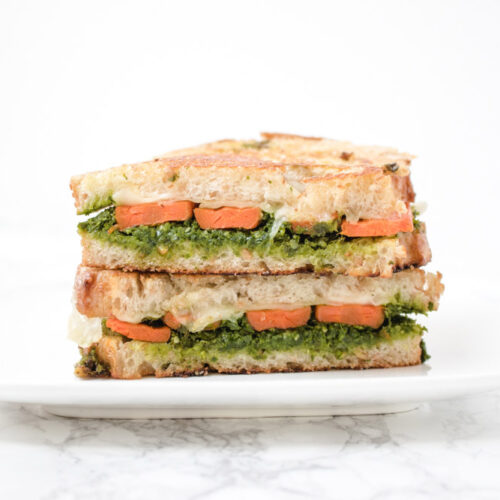 Roasted Carrot and Kale Pesto Grilled Cheese
A fun twist on a grilled cheese sandwich that gets in lots of veggies!
Ingredients
8

medium

carrots

¼

cup

olive oil

plus more for roasting

1

bunch

kale

2

tsp

minced garlic

2

tbsp

lemon juice

¼

cup

hemp seeds

8

slices

bread

we find sourdough works well here

4

tbsp

butter

unsalted

16

thin slices

asiago cheese

or 1 cup shaved parmesan cheese
Instructions
Preheat oven to 450°F. Cut carrots into long slices, about ¼ inch thick. There is no need to peel the carrots as long as they are washed well.

Spread carrots on a baking sheet covered with foil or a silicone baking mat. Drizzle with olive oil. Toss to lightly coat both sides. Cook for about 20 minutes, or until soft, tossing halfway through.

Meanwhile, remove the center ribs of the kale and tear into pieces. Add to a food processor with the ¼ cup olive oil, garlic, lemon juice, and hemp seeds. Process until it is a smooth pesto consistency.

¼ cup olive oil,

1 bunch kale,

2 tsp minced garlic,

2 tbsp lemon juice,

¼ cup hemp seeds

Butter one side of each piece of bread.

8 slices bread,

4 tbsp butter

Spread pesto on the unbuttered side of 4 pieces of bread. Place carrots across the top of the pesto so that the whole piece of bread is covered. It is okay if some carrots hang over the end of the bread, but don't get too close to the sides or the carrots will fall out with cooking.

If you are using slices of cheese, add them now to cover the entire piece of bread and then top with another piece of bread, with the butter side out.

16 thin slices asiago cheese

If you are using the shaved parmesan, I recommend putting the slice of bread with pesto and carrots in the pan first, and then adding the cheese. Add the cheese to the center of the bread primarily so that it doesn't all fall out, it will spread out as you cook it. Top with another slice of bread, buttered side out.

Cook on medium to medium-low heat so that the cheese has time to melt before the bread gets too dark, flipping once so both sides are cooked.

Serve in fingers to toddlers, or cut in half for adults. For babies under a year, serve the components separately as noted above.
Notes
* A sliced hard cheese like asiago works well for this sandwich, but we found that it wasn't always available or affordable in our local stores. The shaved parmesan is also delicious and tends to be available everywhere. It can also be bought in bulk at stores like Costco where we live.
When using the shaved parmesan, add it to the middle of the sandwich once it is already on the stove, then top with another piece of bread. If pieces of the cheese fall out, simply use your spatula to push them up against the edges of the bread and make little cheese crunchies. It adds another delicious layer to the sandwich!
** If you are making more than one or two sandwiches at a time, I recommend using multiple pans or a griddle like this to speed it up! We can usually get 3-4 sandwiches at a time on that griddle.
Nutrition
Serving:
1
large sandwich
Calories:
821
kcal
Carbohydrates:
83
g
Protein:
31
g
Fat:
42
g
Saturated Fat:
15
g
Polyunsaturated Fat:
8
g
Monounsaturated Fat:
16
g
Trans Fat:
0.5
g
Cholesterol:
50
mg
Sodium:
1323
mg
Potassium:
701
mg
Fiber:
8
g
Sugar:
12
g
Vitamin A:
24268
IU
Vitamin C:
41
mg
Calcium:
547
mg
Iron:
8
mg