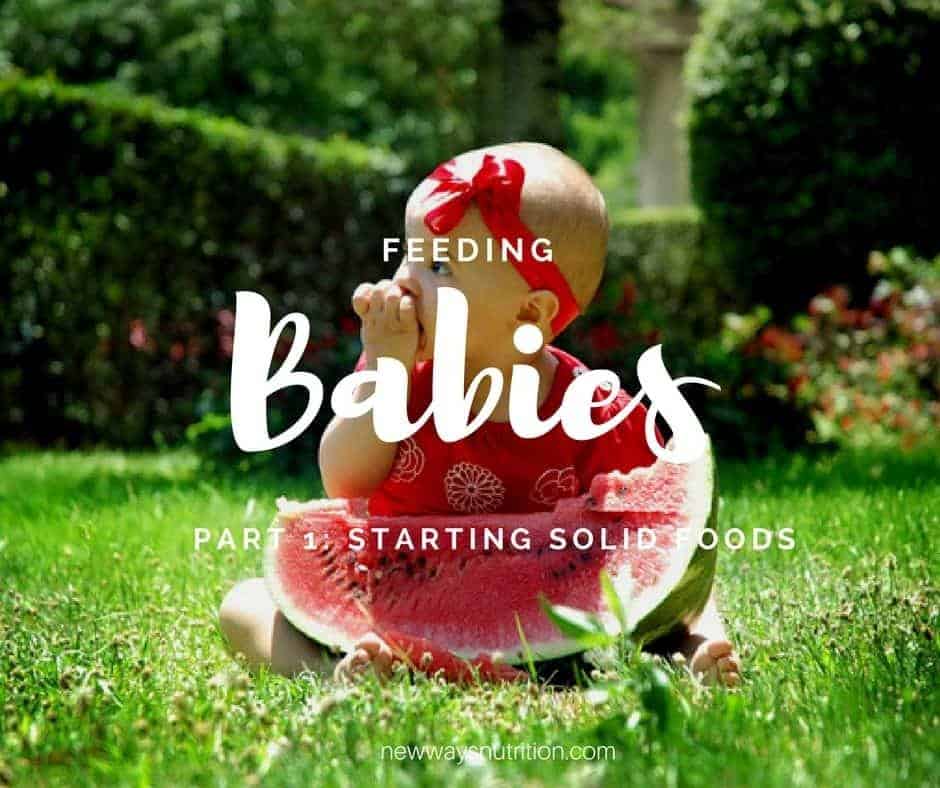 This is the first in a new series I will be doing all about how to help your child have the best relationship they can with food, from first bite through adolescence. While I am a health professional, this advice is for informational purposes only. I encourage you to talk with your own doctor, dietitian, or other qualified health professional to help you find the course that is right for you and your family. Any examples used in this series are examples only and should not be taken as prescriptive. Everyone has different methods they have found to work when it comes to feeding their kids. This is intended as a research based look at the issues with some everyday examples thrown in. Bottom line– this is a judgment free zone! Mommy and Daddy guilt be gone! With that said, let's dig in…
The beginning of your child's life is a time that is full of so many amazing moments. From their first smile to being able to sit up, it all seems to go by so fast. Before my daughter was born, I was so busy buying all sorts of baby paraphernalia that I didn't do much thinking about how we were going to do the actual parenting. I figured we had plenty of time to work that out. At 5 months and counting (quickly, it seems!) we are definitely approaching that time where our parenting philosophy is going to need to start showing itself in full force.
Seeing as how helping families figure out their feeding philosophies is a main part of my job, you'd think I would know exactly how I wanted to approach feeding my daughter from the moment I knew I was pregnant. Not the case, unfortunately. Sure I know a lot more than the average person. I also have a general idea of what I want to do. But what her first food is going to be? What specific style we will use to feed her? Nope, haven't gotten there yet. Not to mention I have to make sure that my husband knows and is behind whatever way we decide to go. So many things to think about! Which is why I figured I would lay out all of the evidence and background here, to not only help you but to help myself. And to explain in writing to my husband and extended family exactly what I'm thinking. (Hi Honey!)
First things first. When should you start foods?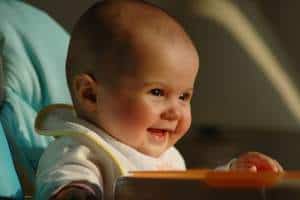 Well, it Depends…
Unfortunately for parents everywhere, this depends on who you ask. It couldn't be straightforward, could it? The American Academy of Pediatrics recommends starting at about 6 months of age. Other sources, including some pediatricians I've heard of, seem to be fine with starting at 4 months. Recommendations over the years have changed, but usually lie within the 4-6 month mark.
Why the difference?
There are a few things that different groups are looking at when they make recommendations. These include how ready is your baby's gut, what is their developmental ability, risks of food allergy development, and are there any nutrients your baby needs at a certain time.
OK, so what do we do?
I recommend starting solids based on your baby's developmental markers that show readiness to start solid foods. This is based on looking at all the different recommendations as well as  the reasoning behind them. Every baby is different, and this also takes into account your baby and not just the average baby. These markers are unlikely to be present until around 6 months, but again, every baby is different.
If by chance these markers aren't there by 6 months, that's ok! Continue watching closely for them to be present, and start when they are. If this is your situation, it would be a good idea to consult your pediatrician or a dietitian to inquire about iron stores. Iron is one of the main nutrients health professionals watch out for when you start to get to the 6-month mark. It is by no means a reason to rush into eating before your baby is ready, though.
The only real caveat to this is if you have a history of food allergies in your family. In that case the latest research recommends starting allergen containing foods closer to the 4-month mark. Make sure you talk with your pediatrician or dietitian about timeline and your family history first! The number one thing I can say is do not be in a hurry to start solid foods. Your baby has a lifetime of eating ahead of them. Ensuring that they are ready and able to appropriately accept foods can help make their relationship with foods throughout their whole life a good one.
What are the markers to watch for?
Your baby:
Can sit up unassisted
Tongue no longer extrudes (in other words, your baby doesn't thrust their tongue out when something comes towards their mouth)
Has an interest in your food
Puts toys and other things in their mouth
Has some hand control to get things where they want them to go
These markers take into account social readiness as well as physical. Both are equally important for their lifetime eating habits as well as peace around your family table. Feeding a baby that's too young can result in a struggle and make meal times trying. That's no fun for anyone involved. By following a few guidelines, feeding your baby really can be an amazing, rewarding, and fun time for the whole family!
Got it. What's Next?
Once your baby is showing all the signs that they are ready for solid food, its time to pick a first food! I'll dive into this topic in the next post in the feeding babies series.
Have any questions? Topics you're curious about or want me to cover in this series? Let me know! Be sure to follow me on Instagram, where I share meal and snack ideas from all around the internet to help inspire your food choices. Feeding Babies will also be moving to Instagram soon. I'll be sharing our progress as we introduce our daughter to solid foods.