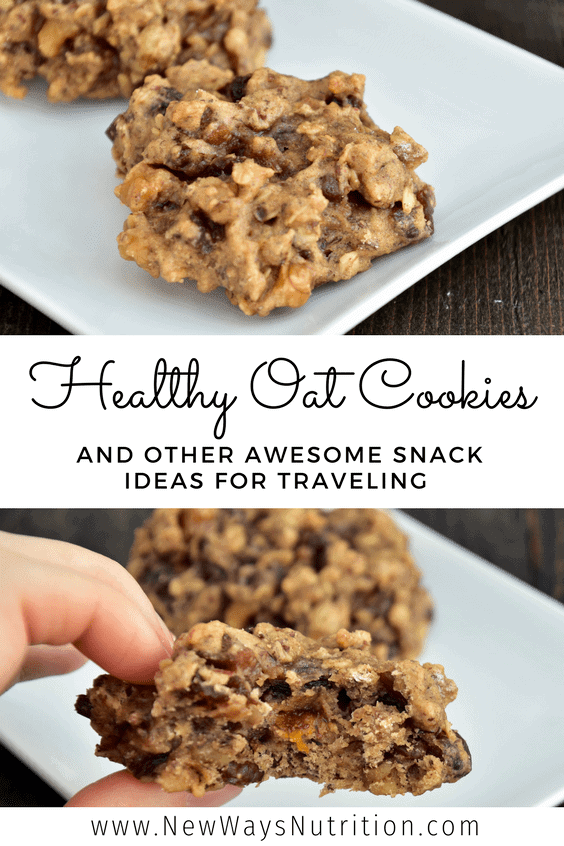 We just got back from a trip to British Columbia to introduce the babe to her Canadian family. One of the things that always shocks me about traveling is just how meager the food options are at most airports, and how expensive those few options are. Now I'm the last one to say I won't eat something, and am generally pretty open to all options for food. There's just something about most airport food that leaves me feeling heavy and sluggish afterwards, though, so I generally try and avoid it, and the outrageous price tag!
With that in mind, I prepped some snacks for us to eat on our long days of travel and figured I would share them with you all. I'm also sharing some cheap, non-perishable options I tend to grab when I don't have time before a trip to prep food. All in the name of keeping your mind and body happy while traveling so you can enjoy all the sights, sounds, and people while feeling your best!
Packaged snacks:
Lara bars

– these tend to be my go to bars. There are no funky ingredients and they provide just enough substance to tide me over for a bit. I tend to stick to the original versions as those are the ones usually on sale, but I love the nut versions, too.

Trail mix

– Usually I get this from Trader Joe's. I like to look for something with a good mixture of nuts and dried fruit, and occasionally a bit of chocolate for some added sweetness.

Crackers and nut butter

– I aim for whole grain crackers and small packs of nut butters. My favorite nut butter is Almond and can usually be found in multiple different package sizes.

Fresh or dried fruit

– mandarins and tangerines are great options year round, but any fruit that isn't too delicate works. For dried fruit I tend to choose apricots or banana chips out of personal preference. I like to avoid cranberries or cherries that have added sweeteners. They usually make me feel like I am just eating sugar so it is better for me to avoid them.
Homemade snacks:
Date balls

– there are all sorts of recipes for them out there and you can find one for any flavor that you like. One that I favor is Daily Garnish's Coconut Date Energy Bites. The added oats and orange zest in these make them feel a little more substantial and unique.

Granola bars

– again, multiple healthy options out there. I like to find ones that incorporate dried fruits and nuts for added staying power, and err on the side as little sweetener as possible. My favorite bar of the moment is Oh She Glow's New Mama Glo Bar. These have brown rice sugar as a binder/sweetener, and make me crave more every time I have one.

Sandwiches

-from standard peanut butter and jelly to hummus and veggies. What I pack depends on time of day and how long I'm traveling. I usually will pack a sandwich if I'm traveling over lunch and/or dinner. If I know I can eat it within four hours, I'll pack a clean out the fridge hummus and veggie sandwich to really help me feel nourished and satisfied. Otherwise it's PB & J or almond butter and fruit.

Oat cookies

– a cookie in name only, it is full of whole grains and dried fruit with very little sweetener. You can find all sorts of cookies out there like this, but here is my favorite:
Awesome Oat Cookies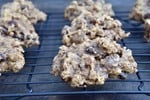 A healthy, oat, fruit and nut cookie ideal for snacks and traveling. (Adapted from Peas and Thank You cookbook)
4 tbsp ground flaxseed, (divided)
1/2 cup water
Dry ingredients
1 cup all-purpose flour
1/2 cup white whole wheat flour
1/2 cup rolled oats
1/2 tsp baking soda
1 tsp cinnamon
1/4 tsp ground nutmeg
Wet Ingredients
1/4 cup sugar
1/4 cup brown sugar
1/4 cup any flavorless oil, (grapeseed or canola works well)
1/4 cup milk, (sub non-dairy milk to make this vegan)
1 tsp vanilla extract
Mix Ins
1/2 cup dried apricots, (chopped**)
1/4 cup raisins**
1/2 cup walnuts, (chopped**)
Preheat oven to 350 degrees. Line cookie sheet with parchment paper or silpat. 

Combine 2 tbsp flaxseed with water in a small bowl and let stand for 5-10 minutes.

Combine remaining flax seed, flours, oats, baking soda and spices in a medium sized bowl.

Add wet ingredients to flaxseed mixture and stir until sugar is dissolved. 

Add wet ingredients to dry and mix until combined.

Fold in the nuts and dried fruit until just combined

Spoon 12 heaping spoonfuls of dough onto cookie sheet. Press down into loose cookie shapes. 

Bake for 12 minutes or until light golden brown on bottom. Transfer to cooling rack. 

Once completely cooled, cookies can be stored sealed tightly on the counter for 2-3 days or in the freezer for 2 months. 
**The raisins, apricots, and walnuts can be subbed for any dried fruit or nuts of your choice. 
All of the above homemade options (except for the sandwiches) are great for freezing, and can be made well in advance of any traveling. These were also a few of the snacks I made for the newborn days. I would grab one from the freezer when I was feeling hungry but had no time, or hands, to make something. They were lifesavers!
Here's to happy traveling!